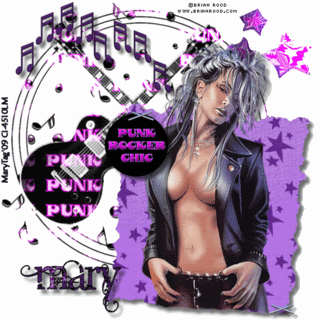 Tube of choice,I am using Brian Rood,which you can purchase
here
,do not use unless you have a license to do so.
Scrapkit is Punk Rocker Chic from Hippiedaze,check out her blogs
here
and
here
. This kit rocks Susan,thank you!!!
Template of choice,I am using Bev's template38,check out her blog for many awesome templates
here
. Thank you Bevie!
Mask of choice,I am using ButterflyFlutterby Creations mask68
here
Font of choice,I am using Angelic War
here
Animation Shop(AS)
-This tutorial was written assuming you have working knowledge of PSP-

Dropshadow for entire tut:
Vertical 7
Horizonal 7
Opacity 57
Blur 8

 
Open template,hit shiftD,close the orginal and delete the copyrights from the one you are using.

Highlight the background layer/paste paper37 as a new layer/right click/new mask layer/from image/select mask/ok/layers/merge/merge group.

Using your move tool,position the mask to the left,top of the tag.

Highlight rec layer/selections/select all/float/defloat/paste paper47 as a new layer/selections/invert/delete/deselect/right click/merge/merge paper down to rec layer.

Paste tube of choice/using the eraser tool,erase any of the tube going off of the rec paper layer/right click/merge/merge down to paper rec layer only(I had to move my tube down in order to do this)/dropshadow/move to top.

 
Highlight stars layer/selections/select all/float/defloat/paste paper20 as a new layer/selections/invert/delete.

Highlight stars layer again/click inside stars with your magicwand/paste paper19 into selection(edit)/deselect/merge star layers.

Merge both staple layers/dropshadow.

Paste element32(music notes)/resize 50%/position/layers/duplicate/image/mirror/dropshadow to both layers.

Paste element41(circle tag)/resize 50%/position/dropshadow.

Highlight stars layer/layers/merge/merge down to mask layer. Layers/duplicate 2 times/rename layers mask1,mask2 and mask3.

Add copyrights.

Add name.

*For my name,I used paper45 for fill/black on foreground.

Image/resize all layers 12%.

Highlight mask layer1/effects/illumination/lights/settings:

light source:
darkness 83
color of choice
intensity 30
Direction 200
Horizonal 5
Vertical -87
Scale 10
Smoothness 28
Cone Size 45
Asymmetry 500

Highlight mask2/repeat effects,changing intensity to 33/repeat for mask3/intensity 36.

Highlight mask1/hide 2&3/edit/copy merged/take to AS/paste as a new animation.

Hide mask1 layer/highlight&inhide mask2 layer/edit/copy merged/paste in AS after current frame.

Repeat for mask3 layer.

Save as gif in AS.
Hope you enjoyed my tut,would love to see your results.
Hugs,Mary