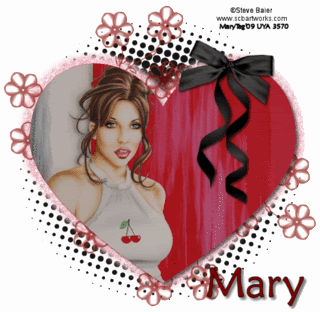 Tube/image of choice,I am using Steve Baier,which you can purchase
here
,do not use unless you have a license to do so.
Template of choice,I am using Kirstys Misfit template8
here
. Thank you Kirsty,awesome!

Bow of choice

Doodle of choice

Animation Shop

Font of choice,I am using Maiandra GD,came with my psp program.
-This tutorial was written assuming you have working knowledge of PSP-
Open template,shiftD,close the orginal and delete copyright layer.

Highlight heart layer/selections/select al/float/defloat/paste tube/image of choice as a new layer/position/selections/invert/delete/deselect.

Right click on tube layer/merge/merge down with heart/dropshadow

Vertical 4
Horizonal 4
Opacity 55
Blur 6
 

Highlight glow layer/layers/duplicate 2 times/rename glow1,glow2 and glow3.

Layers/new raster layer/right click/arrange/send to bottom/flood fill white.

 
Paste your bow/position/dropshadow

Vertical 6
Horizonal 6
Opacity 67
Blur 9
 
Highlight glow3 layer/paste doodle of choice as a new layer/position/layers/duplicate/position.

Highlight glow1 layer/adjust/add-remove noise/add noise/settings:

Uniform checked
Monochrome checked
Noise 35%

Repeat with glow2 layer changing the noise to 36%,and glow3 layer 37%.

Moving back to the top/add copyrights.

Add name.

Open animation shop.

Hide glow2 and glow3 layers/highlight glow1 layer.

Edit/copy merged/paste into AS as a new animation.

Back to psp.hide glow1 layer/unhide and highlight glow2 layer/edit/copy merged/take to AS/paste after current frame.

Repeat for glow3 layer.

Save as gif in Animation Shop.