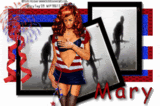 Tube of choice, I am using the wonderful work of Tom Hoover,which you can purchase
here
,do not use unless you have a license to do so.
Scrapkit is "Some Gave All" from Kissy,which you can purchase at "
Taggin AngelsNScrap
" Love this kit Kissy,thank you!!
Template of choice,I am using template21 from Caitlin
here
. Thank you for sharing!

Image of choice,I don't know where I got the one I used so cannot share. If its yours,let me know so I can give credit,thank you:)

Font of choice,I am using Comic Sans,came with my psp program.

Animation shop
-This tutorial was written assuming you have working knowledge of PSP-

Open template,click on shiftD,close the orginal and delete the copyright layer.



Paste image,position/layers/duplicate/position/hide black lines,large white rectangle and large gray rectangle layers/layers/merge/merge visible/unhide layers.



Layers/new raster layer/send to bottom/flood fill white.



Highlight large grey rectangle layer/selections/select all/float/defloat/paste paper9 into selections/deselect.



Highlight large white rectangle layer/repeat the last steps using paper 18.



Highlight black lines,flood fill white.



Paste ribbon fireworks1,resize 55%/position/ dropshadow 5 5 65 12


Paste fireworksbling1,resize 10%/position/repeat with fireworksbling2/same dropshadow



Paste starcharm2/resize 55%/position/same dropshadow.



Paste tube,resize if needed/position/same dropshadow.


Add copyrights/name/layers/merge/merge visible/image/resize all layers by 18%



Open animation shop,open tears_saskia/edit/select all/minimize.



Back to psp/edit/copy/paste into AS as a new animation/press ctrl and L at the same time/5 times,making 6 frames/edit/select all.


Open tears_saskia/copy/minimize/bring up your tag/edit/paste into selected frame/I pasted it 3 times/click on animations/frame properties/changed the time display to 20/save as gif.
Hope you enjoyed my tut,would love to see your results.

Hugs,Mary