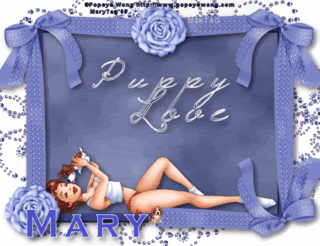 Tube of choice,I am using the awesome work of Popeye Wong
here
Scrapkit is Dreams in Blue(FTU) from Terrys Teasures
here
. Thank you for a gorgeous kit Terry!!
Animation is from Peachies Collection
here
. Thank you for the awesome animations!
My wordart
here
(Optional)

Font of choice,I am using Copperplate Gothic Bold,came with my psp program.
-This tutorial was written assuming you have working knowledge of PSP-
Open a new transparent image,flood fill white.

Dropshadow for entire tut is:
Vertical 5
Horizonal 5
Opacity 55
Blur 15

Paste frame 5 as a new layer,resize 10%/image/free rotate to the right 90*

Using your magicwand,click inside frame/selections/modify/expand 5/paste paper5 as a new layer under the frame layer/selections/invert/delete/deselect.

Paste tube/resize if needed to fit in the frame/dropshadow.

Hide white background layer/merge all other layers visible/unhide layer. Add dropshadow to merged layer.

Paste bow3,resize 22%/position/layers/duplicate/image/mirror/layers/duplicate/image/flip.Move 3rd bow layer below #2 layer/using your eraser tool,erase any ribbon overlapping the #3 ribbon/merge the 3 bows/dropshadow.

Paste flower2,resize 40%/layers/duplicate/position/dropshadow.

Paste doodle2 right above the background layer/position/duplicate x amount of times,your choice/position/dropshadow.

Paste puppylove wordart,resize/dropshadow.

Add copyrights/name/layers/merge/merge visible/image/resize all layers by 14%

Open AS,open dog13/edit/select all/copy and paste your tag into AS/hold down Ctrl and hit L 5 times,making 6 frames of your tag/edit/select all/minimize.

Edit/copy your dog13 frames/edit/paste into selected frame on your tag/position/save as gif.
Hope you enjoyed my tut,would love to see your results.

Hugs,Mary