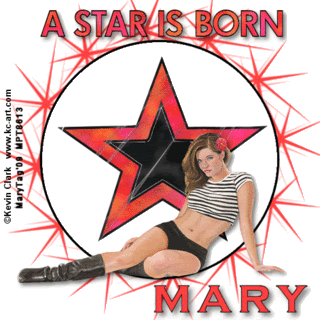 Tube of choice,I am using the beautiful work of Kevin Clark,which you can purchase
here
,do not use unless you have a license to do so.
Von's template
here
Thank you Von,love it!! You can download the template
here
until its removed,make sure to go to Von's blog and thank
her
for the template.
Filter:Sindots
here

Eye Candy 4000-HSB Noise
Mask of choice,I am using Vix_mask166
here



Font of choice,I am using Copperplate Gothic Bold,came with my PSP program
-This tutorial was written assuming you have working knowledge of PSP-



Dropshadow for entire tut:
Vertical 5
Horizonal 5
Opacity 52
Blur 11



Open template,hit shiftD,close the orginal



Move the wordart up top,flood fill color of choice,I used #ff4040/dropshadow



Highlight the star layer/floor fill same color/click inside the star with your magicwand/flood fill black/effects/sindots



Highlight your circle layer/flood fill white,paste tube/position/dropshadow



Layers/new raster/send to bottom/flood fill same color as your wordart/right click/new mask layer/from image/mask data unchecked/layers/merge/merge group/iamge/resize mask layer by 20% larger.



Layers/new raster/send to bottom/flood fill white



Highlight your wordart layer/right click/merge/merge down with star layer/layers/duplicate 2 times/rename sw1,sw2and sw3/highlight layer1/effects/eye candy 4000/HSB Noise/settings:
Hue 25
Saturation 20
Brightness 33
Opacity 0
Lump Width 46
Lump Height 42
Pattern Smooth Fractal
Fractal Roughness 40
Seamless Tile checked
Random Seed,click one time



Repeat HSB Noise for sw2&sw3 layers but only changing your random seed by clicking once for each layer.



Add copyrights



Add name



Image/resize all layers 20%



Highlight sw1,hide other 2 layers/open AS/back to psp/image/copymerged/paste into AS as a new layer/hide sw1,unhide&highlight sw2/image/copy merged/paste into AS after the current frame/repeat for sw3 layer/animation/frame properties 20



Save as gif
Hope you enjoyed my tut,would love to see your results.

Hugs,Mary