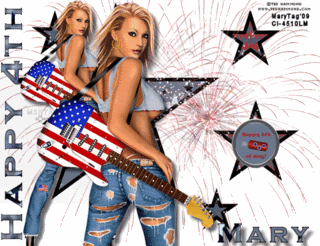 I am using the gorgeous work of Ted Hammond,which you can purchase
here
,do not use unless you have a license to do so.
Scrapkit is Americana from Natasha
here
. Get on the Goodie train!! Love this kit Nat! Thank you!
My Star template
here
Eye Candy 4000-HSB Noise
Font of choice,I am using Copperplate Gothic Bold,came with my psp program.
Animation Shop
-This tutorial was written assuming you have working knowledge of PSP-

Open the template,click inside the largest star with your magicwand/edit/paste paper3 into selection/deselect. Repeat for each star,your choice of papers.



Paste tube/position/dropshadow
Vertical 8
Horizonal 8
Opacity 58
Blur 8




Paste glass(happy 4th)/resize 42%/position/same dropshadow.




Paste fireworks under tube layer/position to the left/layers/duplicate/image/mirror/merge those 2 layers.




Using your font of choice,type out Happy 4th/position below the tube layer/right click/merge/merge down with the fireworks.




Add your copyrights/name/image/resize all layers 15%.



Highlight your fireworks/happy 4th layer/layers/duplicate 2 times/rename each layer 1,2 and 3.




On layer 1,go to effects/eye candy 4000/hsb noise/these setting:
Hue Variation 25
Saturation Variation 30
Brightness 40
Opacity 5
Lump Width 14
Lump Height 14
Pattern:Smooth Lumps
Seamless Tile Checked
Random seed click one time
Then click ok
Repeat for each layer,clicking on random seed one time.



Highlight layer 1,close layer 2&3
Edit/copy merged
Open AS,paste as a new animation,back to psp,close layer one,unhide layer 2/edit/copy merged
In AS,edit/paste after current frame.
Repeat with layer 3
Save as gif.
Hope you enjoyed my tut,would love to see your results.
Hugs,Mary